Loss of Data Files
Search for the File
If you remember the file name, look for it under the search functions for Windows or Mac. There might be a chance that you didn't delete the file, but instead dragged it into another folder. At least confirm that the required files are indeed lost before proceeding to next stage.
Check your recycle bin
Typically when you suspect you may have deleted the files, you only have to do one thing. Go to your desktop and double click on your recycle bin. If you're able to see that your files are still inside, simply restore them by selecting them and then click the Restore button.
The files will then be copied or 'restored' back to the location before the deletion was made.
If you have deleted some files in MS-DOS or are unable to find your deleted files in the recycle bin or in some cases, have accidentally emptied the recycle bin, read on.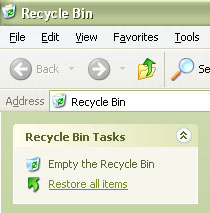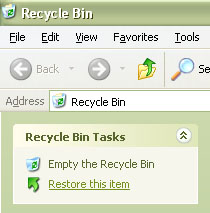 Back to Top
Emptied Recycle Bin
This situation takes place either when you have used the Shift command during the deletion or emptied the recycle bin after file deletion.
Also take note that files deleted using the DOS command are not first moved into the recycle bin.



The shift + delete command will permanently remove your files and it will not be send to the recycle bin.
Solution
In this case, Your deleted data is still residing in your disk and you need to stop any data writing process to the same disk partition to ensure a successful recovery.
Next, remove your disk and install it as a "read-only" drive on a separate computer.
You can then download our free ADRC Data Recovery Tools and give it a try.
Warning again ! Do not save or write any thing into the data partition where the data was lost.
If all failed, you may then contact a data recovery expert to assist or submit your rescue request to ADRC.

Back to Top