ADRC Data Recovery Tools Menu

Download Page

User Guide

Software Release History

License Agreement

Awards / Testimonials

Software FAQ
Version 1.1 (updated on 19 June 08)
License: Free
Requirements: Windows 95/2000/XP
Filesize: 44.4KB
Download Now
Features
ADRC Data Recovery Software Tools contains a collection of DIY data recovery tools that supports a wide variety of drives and file systems.
The software incorporates extremely simple GUI with novice users in mind. The software zooms in to do only critical recovery functions with minimum complexity so one could recover the data easily. It gives you full control to undelete files, disk image back up, restore a backup image, copy files from hard disk with bad sectors, disk cloning, backup, edit and restore your boot parameters.
It is absolutely free! It is our pleasure to offer you the software without charge, direct or hidden, to download and use a fully functional copy of the program. The software will not install any spyware or adware. It does not gives pop-up ads or force any form of subscription to mailing lists.
The program is designed to be compact "green-ware" without any installation. In fact, the whole program is less than 130 kb and you could stuff it anywhere (such as a floppy) and run the program from there to recover data.
If you are happy with the utility, share the information with others about ADRC Data Recovery Software Tools or place to link to our download home page.
Review from Yahoo! Tech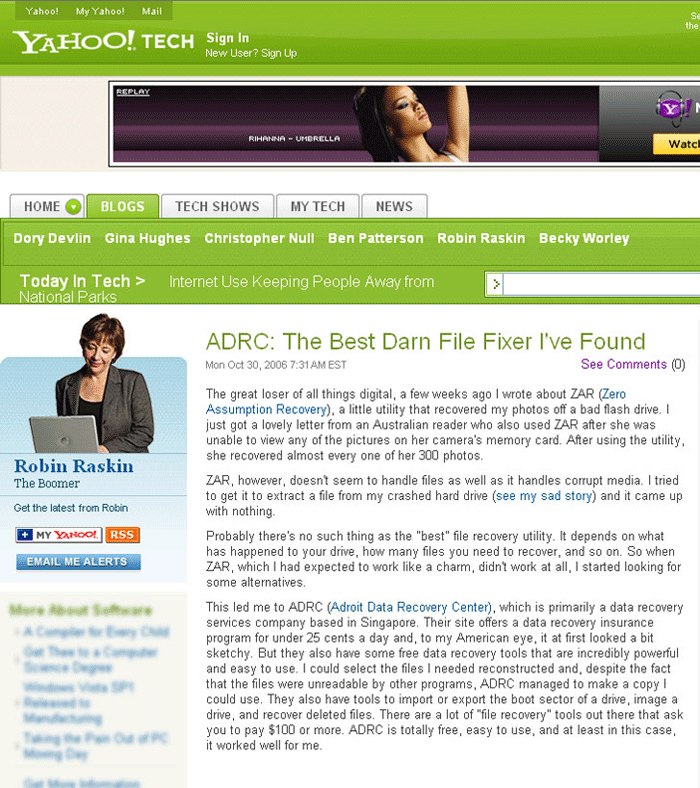 Other Software Downloads

ADRC Data Recovery Express

Free ADRC Data Recovery Tools

Free ADRC Hard Disk Checker v1.01

Free ADRC Hard Disk Hex Editor v1.01

Back to top