ADRC Data Recovery Express Menu

Download Page

User Guide

Screenshots

Software Release History

License Agreement

Awards / Testimonials

Order / Purchase Software

Registration Key Request

Contact Software Support

Software FAQ

Feedback
Introduction
ADRC Data Recovery Express software is developed to extend additional features of our previous Freeware - ADRC Data Recovery Tools.
Our initial intention is to come up with additional functions to tackle situations such as corrupted or wrongly formatted volume, partition damage and more, not addressed in our earlier freeware. Upon completion, we have then decided to distribute the software as a low-cost trial-ware instead. If you are in a data loss situation, you may download and run this software to see if you could get back your lost files. When the result is satisfactory, you may then decide if you want to make a purchase. We price the software at very low cost, just US$6.99. You may not need to look around for other more expensive software if this one works for you.
We have no intention to position this software to be either the "best" or the "cheapest". Instead, we just like to offer you good and easy alternatives as well as the best value for money amid the ever-crowded software market. Right Price for the Right Tools - That is our belief.

After all, you may not need to engage expensive data recovery service if you do not need to. Now you can do data recovery for your logical damages from home.
ADRC Data Recovery Express is able to recover data from more all cases of logical damage such as deletion, formatted media, partition corruption, virus attack and other forms of logical damage.
The program is designed to be compact "green-ware" without any installation. In fact, the whole program is less than 164 kb and you could stuff it almost anywhere (such as a floppy) and run the program from there.
If you are happy with the utility, share the information with others about ADRC Data Recovery Express or place to link to our download home page.
BEFORE YOU PROCEED TO USE THIS SOFTWARE,
PLEASE BE AWARE THAT THE WRONG USE OF THE SOFTWARE MAY RESULT IN DATA CORRUPTION.
PLEASE READ OUR TERMS AND CONDITIONS BEFORE YOU PROCEED.
Other Helpful FAQ
Love or hate our software?
We like to hear from you! Help us improve so that we can serve you better.
ADRC Data Recovery Express is able to recover data from logical damages such as:
Deletion of files
Formatting
Partition corruption
Restore Deleted Partition
And many more…
ADRC Data Recovery Express is easy to use. Just scan and recover!
ADRC Data Recovery Express has included a new feature to restore deleted partition. Restoring back your partition is now very easy and simple.
Configuration Settings
To fine tune your scanning process, you can make certain configuration settings to suit your needs. By default, "Keep Folder Structure" is already checked.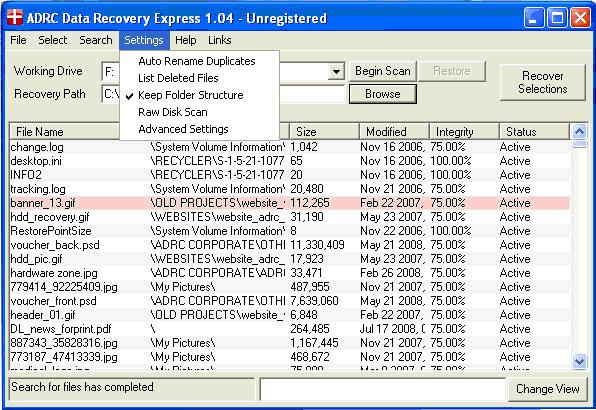 a. Auto Rename Duplicate Files
If this option was checked, ADRC Data Recovery Express will automatically rename duplicate files.
b. List Deleted Files
If you need the software to also search for deleted files, make sure this setting is checked.
c. Keep folder Structure
This is already checked by default. In simple terms, it means that the files list will present the original directory structure.
d. Raw Disk Scan
This is a more exhaustive scan to find file names and forgo directory structure.
* Raw disk scan may take quite some time to complete.
e. Advanced Settings
If default scan does not help, you may consider fine-tuning some of the more advanced setting such as: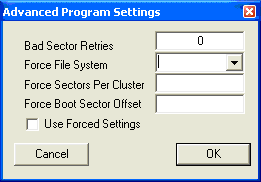 Bad Sector Retries
In case the system hang on scanning, setting a minimum number of retries may help. We suggest 2 to 3 retries in most cases.


Force File System (specify FAT or NTFS)
This is useful if the disk had been formatted into different file systems from previous one. You can force the program to just look for the required file system if the default scan does not work.


Force Sectors Per Cluster
Force Boot Sector Offset
Use Forced Settings

Back to top
ADRC Data Recovery Express offers 2 views to suit the preferences of different people. The traditional view is a detailed file listing very similar to ADRC Data Recovery Tools. In traditional view, you can view the following details at a glance:
File Name
Folder Location
File Size
Date Modified
File Integrity
File Status
The tree view is designed to allow the user to navigate your lost files similar to Windows Explorer.
Click on "Change View" to view the tree structure of the files found. It is designed to allow the user to navigate your lost files similar to Windows Explorer.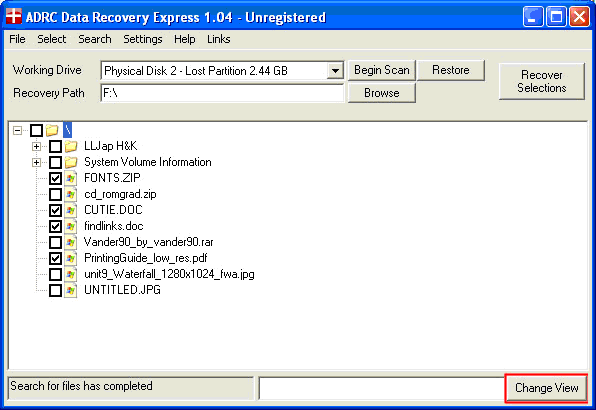 When you have a lot of data, you need every little help you can get in narrowing down the results. With ADRC Data Recovery Express, you can do just that. By default, you can filter your data based on the following:
Archives
Audio
Documents
Images
Source Code
Videos
Example if you need to find documents, choose "Select Documents" and all the documents will be highlighted in red.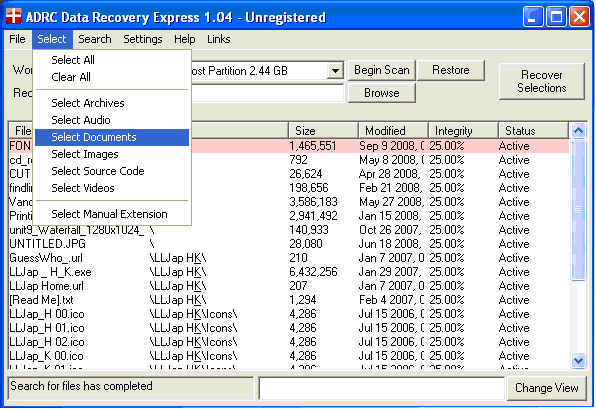 Need to find a certain file extension? Select "Manual Extension" to key in the preferred file extension.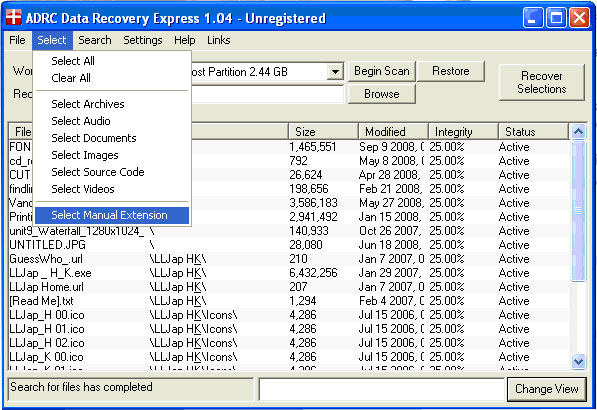 Back to top
If data filtering alone does not do it for you, you can even search through the data loss listing for the exact file you need.
Go under Search > Search for File. You can also repeat the last search by pressing the F3 key or going under Search > Repeat Last Search.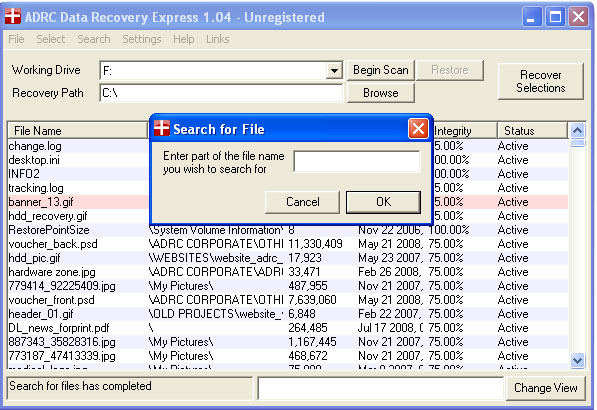 Save or print the file information in csv format. It can be reviewed in spreadsheet software such as Microsoft Excel. A sample of the report is shown.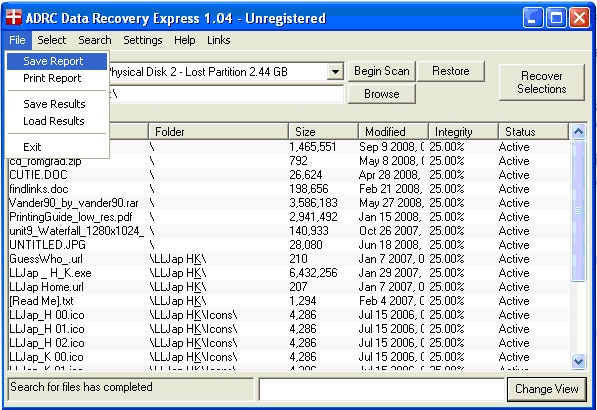 (Sample of the report )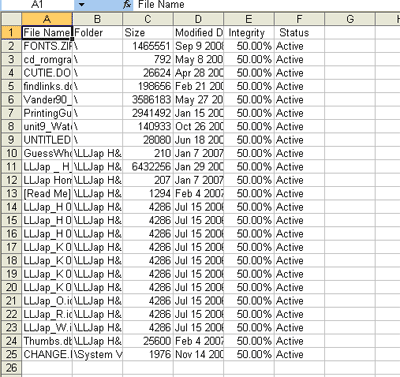 Back to top
ADRC Data Recovery Express allows the user to save the "check-point" position after the scan process so there is no need to do a rescan if the current session is closed. Scanning could be a lengthy process. After the scan, you can save and then return to the same position at another session.
To do that, go to File > Save Report. To resume, simply go to File > Load Results.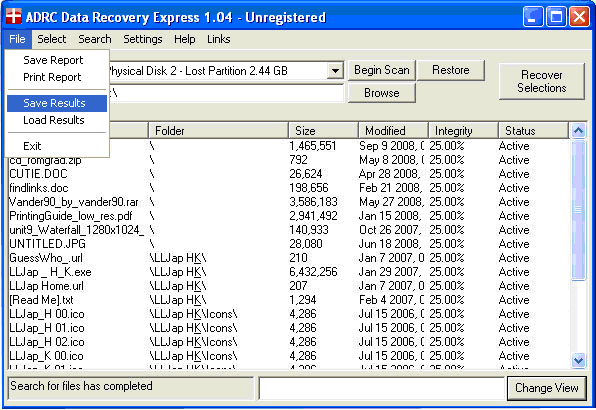 Now users are able to see a running log of the software. Any errors encountered will be shown. Users are also able to export the log file for debugging purposes.